Electric Vehicle/EV Booming
KV Electronics updates on World's Value Chain of Battery and Charger
McKinsey & Company, a global management consulting firm, reported that Acceleration of the battery cell giga-factories built can help the whole industry stay on course. Demand for electric vehicles (EVs) is soon expected to outpace the ramp-up of battery cell production. Particularly by leading EV companies in China, Europe, and the United States.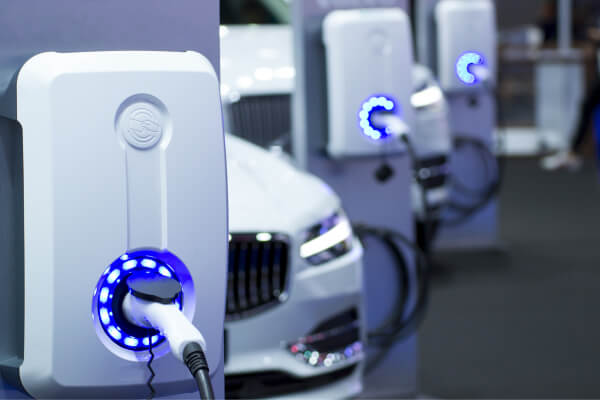 The strong build-out of battery giga-factories will likely require direct investments of more than €300 billion by 2030 alone (approximately €100 billion in Europe and €65 billion in North America). Gigafactory construction is complex, requiring the integration of numerous capital expenditures, such as building, infrastructure, energy, and different machine types, as well as specific areas for testing and dry rooms, among others.
In addition to consumer enthusiasm and government regulations and incentives, the number of industry players committed to phasing out world's production of the Internal Combustion Engine (ICE) vehicles continues to grow. 
Although, such commitments are still in early stages, but by 2050 the bans, OEMs have announced to date will account for more than half of today's passenger vehicle sales, and the EU is aiming for an ICE ban by 2035, likely pulling other countries' commitments forward as well. All signs as foreseeable point to the continued growth in the EV market with Europe leading the charge: McKinsey & Company projected that EVs will soon make up 75 percent of European new car sales by 2030. 
For the first time in history, the global number of EVs on the road surpassed ten million in 2020. This milestone comes amid accelerating EV uptake driven by three key factors: (1) Evolving regulations, (2) OEM sustainability targets and (3) increasing customer pull as OEMs broaden their product portfolios.
The need for additional supplies of EV industry is unpredictably increased - Geographically, the need varies; battery cell demand will remain highest in China followed by Europe and the United States. The demand surge for EVs is on pace to outstrip supply of battery cells in the coming years based on the announced build-out capacity to date. A base-case EV uptake scenario requires more than 3,900 GWh of battery capacity globally by 2030 with passenger cars accounting for roughly 2,400 GWh while an aggressive uptake scenario requires an additional 600 GWh. 
In a recent report of McKinsey & Company written by Jakob Fleischmann, Friederike Liebach, Martin Linder and Dorothee Herring - Today, a majority of companies that specialize in battery cell manufacturing equipment are resided in China, Japan, and South Korea. 
However, many Asian battery cell manufacturing suppliers are operating at more than 95 percent capacity, this is leaving little room to increase output, and might prioritize orders from their existing local customers over those from new European market entrants and those from other regions. This creates an opening for manufacturers from Europe, the United States, and other regions to join the effort to activate the battery cell manufacturing industry. 
Industry players that approach battery cell manufacturing thoughtfully and with an appropriate sense of urgency will likely reap the benefits of expanding into a lucrative new market. With emissions targets locked in place, the course is set to provide consumers with cleaner, greener transportation options. The following targets and priorities can help jump-start progress.
Building the battery production capacity domestically or to use the Foreign Direct Investment (FDI) approach in another country. Prior to start of production, on-time and on-quality battery cell manufacturing equipment supply will be crucial to achieve targeted yield or output performance. Importantly, the supply of coating equipment is especially at risk of shortage or delay, given its high specificity to battery cell manufacturing as well as the limited number of regional machinery players with the required expertise, high utilization of equipment production capacity, and full order books. Access to construction labor is also essential and challenging in many markets where the battery production players target the build-out.
Expand active material production capacity. Additional active material production capacity, especially in Europe and the United States, is required to support or enable battery production in general and to achieve sustainable local supply chains.
Secure access to the most critical raw materials. Especially, the key materials of nickel, lithium, and cobalt and also graphite. This might require direct investment or co-funding by downstream value-chain players to unlock new mining capacity to secure the continuity of material supplies.
Ensure circularity. Closed-loop systems for the second life of batteries need to be established to mitigate raw-material supply risks, optimize the battery carbon footprint and improve economics of the battery recollection obligation for OEMs.

On the other hands, EV charging infrastructure could also become a bottleneck for the industry growth said by Stefan Heldmann, Florian Nägele and Felix Richter in their report partnering with McKinsey & Company.
As EVs have become increasingly affordable around the world, one of the primary barriers for consumers is no longer cost but charging convenience and how a full and fast of the charge will be. In McKinsey's Consumer Survey conducted in 2020, potential EV drivers put the lack of charging infrastructure at the top of the list of barriers to expanded EV adoption and diffusion. Today, most EV charging is done at home compared to a few facilities in public spaces, but the availability and convenience of publicly accessible chargers will remain crucially a need of the business consumer for completing electrification of the vehicle fleet.
Although, the momentum in charging infrastructure in many countries has been increasing. Europe's public charger count increased fourfold between 2015 and 2020/21 – but there are still some risks that could turn the charger into a bottleneck as foreseeable by McKinsey & Company.
Regulations. In many geographies, securing permits to build chargers, construct sites, and connect to the electric grid can require months, or even years, of planning.
Grid. Especially in areas with high charging demand, the electrical grid needs to be upgraded to expand power capacity which include expensive and time-consuming updates.
Resources. Several resources are in short supply, including skilled technicians, production capacity for fast-charging hardware, and enough green energy to make EVs fully environmentally friendly.
Cost. EV charging infrastructure is not that cheap. In the European Union, a typical 350-kilowatt (kW) charger can cost $150,000 - including hardware, installation, and planning.