Small Robot – Playing a Big Role in Today Automation
Small Robot – Playing a Big Role in Today's Automation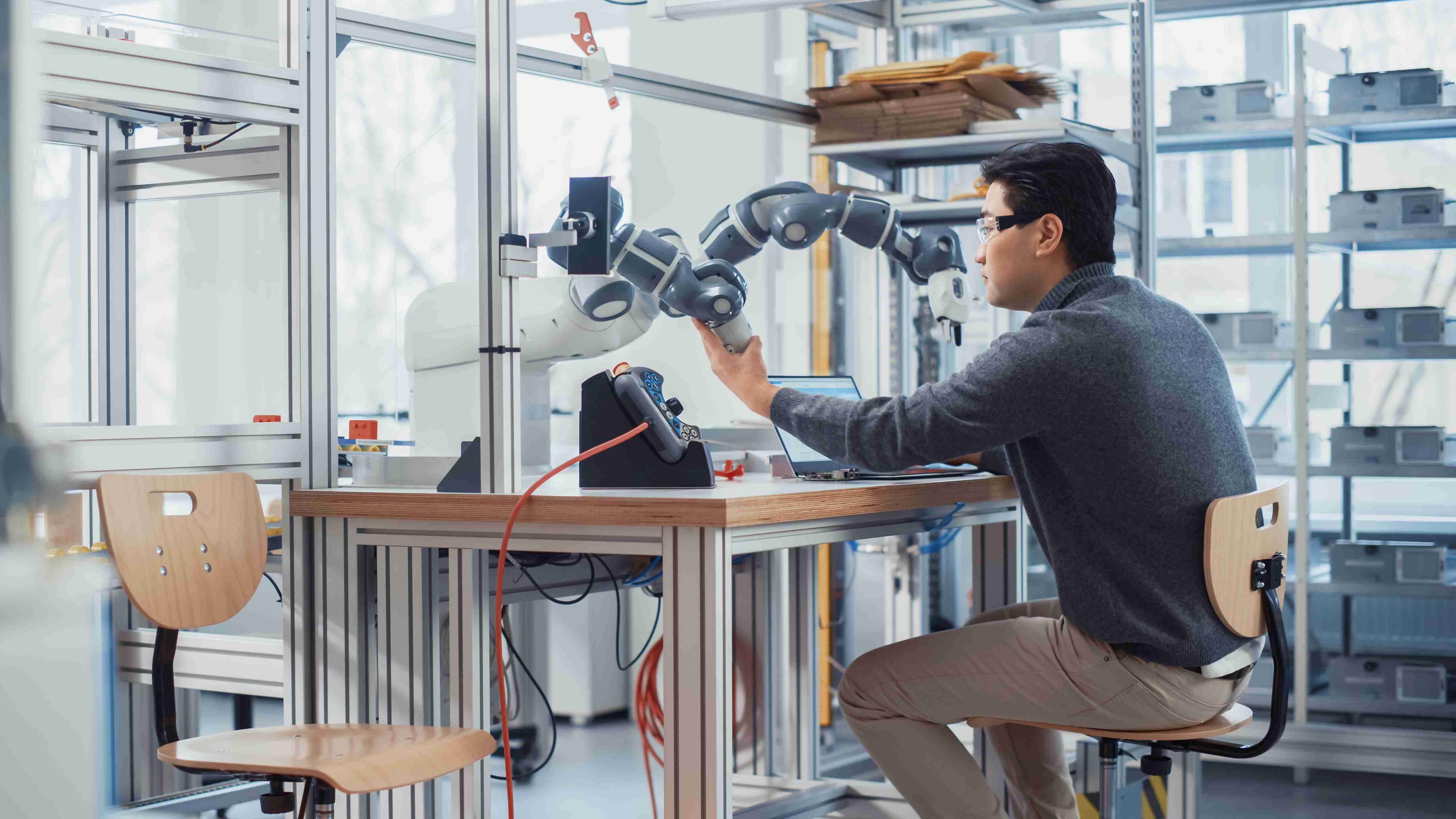 Compact tabletop automation is becoming more popular with manufacturers around the world. Smart manufacturers rely on machines to mass-produce their products such as automotive parts, electronics, medical devices, mobile phones, optics, and watches. Mini robots are also used to test, control, and inspect small parts such as buttons and screens. Table-top robots provide big performances in a small package, they deliver a cost-effective solution to handle and assemble small parts, especially wherever space is scarce and whenever safety is concerned.
According to a report from Assemblymag.com, the term of small robots is meant for the robotics classified based on their reach and payload such as a reach of 500 millimeters or less and a payload capacity under 3 kilograms.
For Small-Medium businesses, a variety of bench-top robots is available today to automate tasks in lower-medium volume operations. These compact machines are agile and can be used for kitting, machine tending, parts feeding, and testing and inspection. The features of the mini robot that can operate the assembly applications include adhesive dispensing, polishing, screwdriving, and soldering.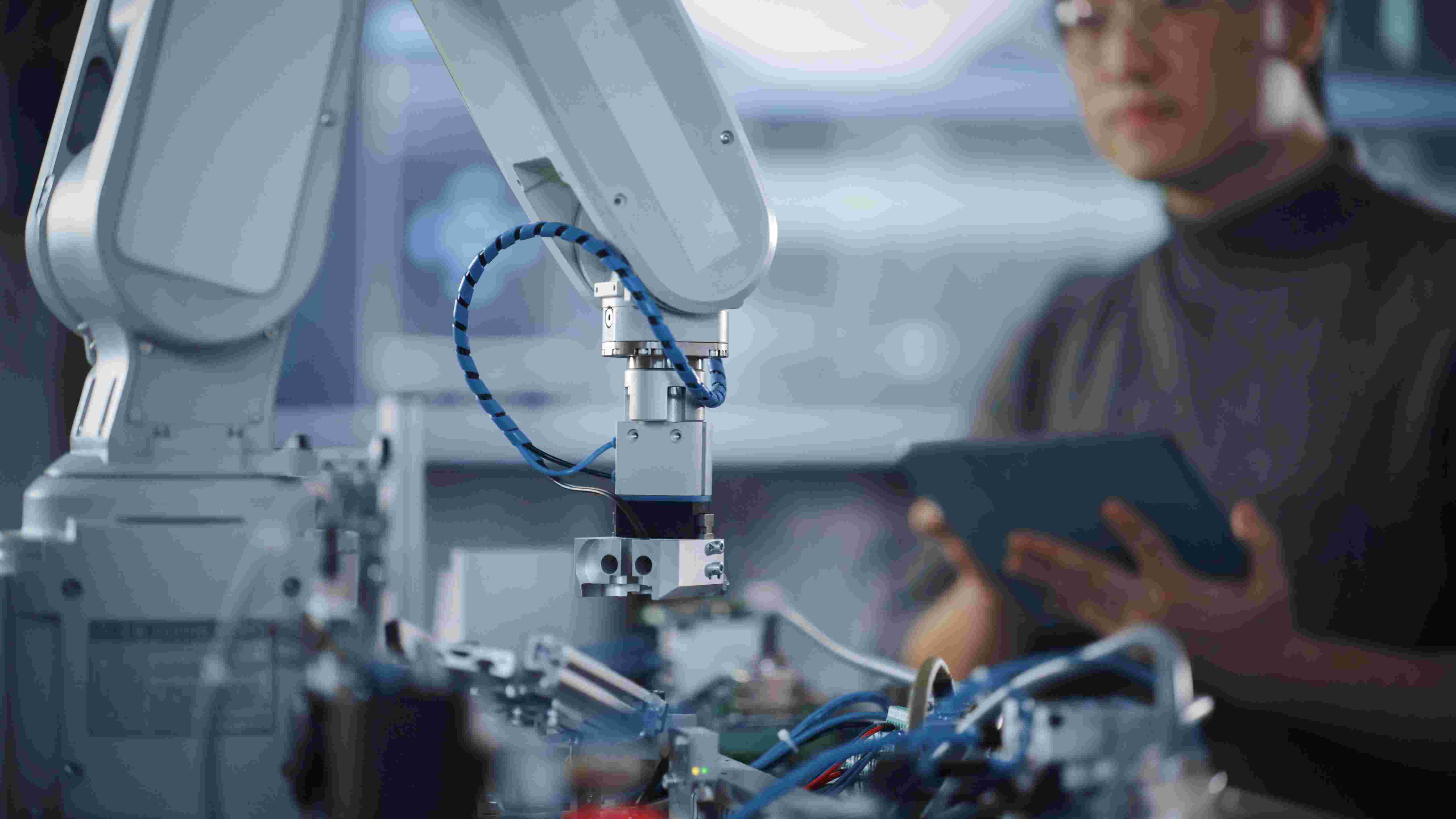 In the business framework, "Mini Robots" have become the choice for conservative manufacturers who want to experiment with robots or to conduct a trial on prototype projects before purchasing to pave the way for even bigger and more successful operational transformations/investments.
Although the mini robots may not be able to perform all of a larger robot's actions in full capacity due to the physical limitations on sizing and available features including the take on lower payloads, they do have several advantages for manufacturers. Here are the most noteworthy comparative advantages of Small Robots highlighted by the article of "Devin Partida" that was published recently on Roboticstomorrow.com.

Global Robot Price Falling - As demands from emerging economies encourage the production of robots to shift to lower-cost regions, they are still likely to become cheaper (and cheaper). Up to date, whilst the robot demand has increased, the cost has gone down. Over the past years, the average robot price has fallen drastically in contrast to the global labor cost which has been up year by year.
It is always a benefit to businesses, whenever the mini robot gets cheaper, it becomes more capable and more flexible while the technologies are also accelerating the growth of fully automated production facilities around the world. The key challenge for companies in the past will be easily deciding how best to harness their power and how fast ROIs (Return on Investments) can be achieved from an in-house robotic investment.
In a published survey of McKinsey & Company, the price of robots becomes one of the leverages attracting users to adopt using the robots in their business as well as the higher overhead costs on labor, salary, and wages. Especially, this challenge becomes more catastrophic for any labor-intensive manufacturing in developed countries if a business insisted on switching to using automations but continued using humans.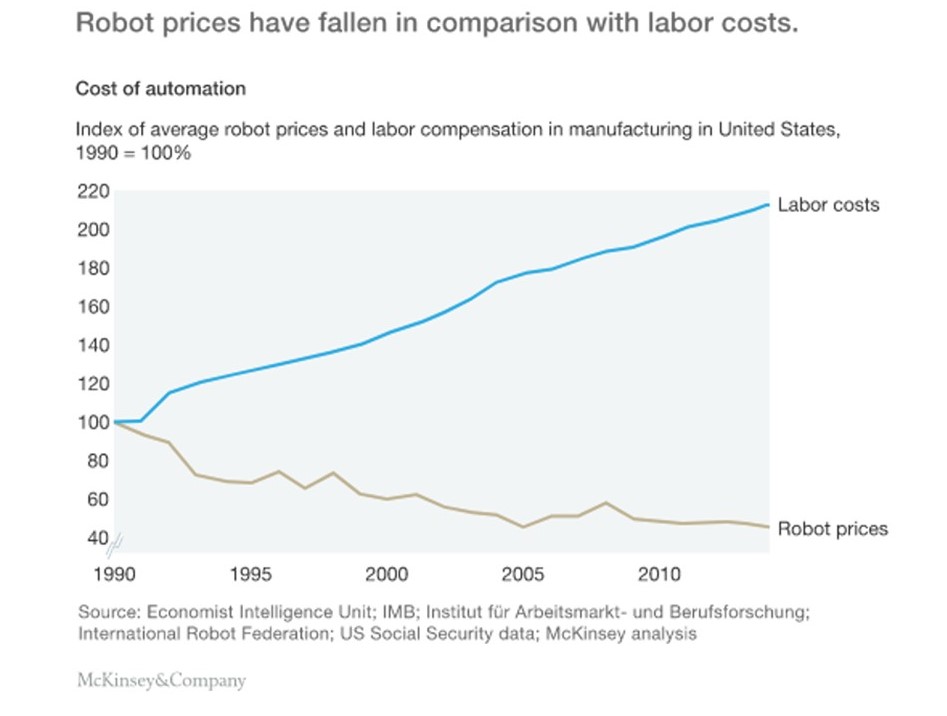 Robots take on a new role – Working alongside people NOT replacing them.
Businesses will also have the freedom to decide which tasks to simplify and automate with robots and which tasks will remain conducted manually by human workers.
The safety system on the mini robotic platform is advanced and it helps the robots to take up new positions and assigned works. The robots can be now installed and suited to work friendly next to their human colleagues, if sensors on the robot indicated the risk of a collision with an operator, the robot would automatically slow down or alter its path to avoid the impact. This technology on safety permits the use of robots for individual tasks in manual assembly lines. For small companies that serve low-to-medium production. The ability to put robots and people side-by-side and to re-allocate tasks between robots and humans also helps improve overall productivity in a very cost-effective way because the companies will gain the ability to re-balance production lines dealing perfectly with demand fluctuations which is the nature of demand management for any small businesses.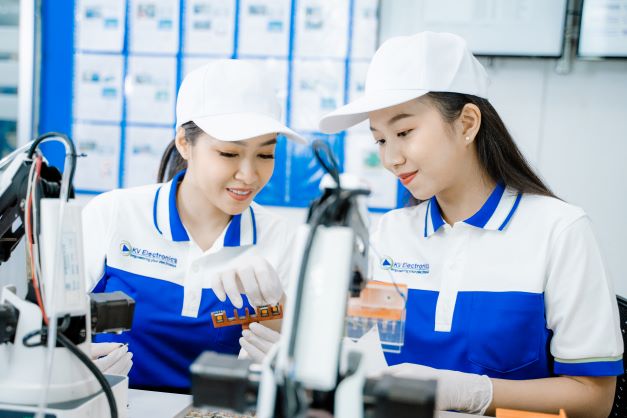 Even though a large robotic system is still the norm in most facilities, the use of mini robots on tabletop platforms is now also gaining traction across industries. Small robotic systems provide multiple advantages to rapport the initiatives at the start and to make later successful deployments of the Automation Simplification concept throughout the production line.
KV Electronics - a company is gaining benefits from compact table-top robots as used at its production, test, and quality control with the support of blending borderless connections to mate with works in process assigned to human workers based on a concept of Automation Simplification.
A company is now setting a record of Robot Density at "12 x Robots per 100 Employees" which is a metric used to measure the number of robots used per a proportional number of workers in the industry.