The Booster Shot - Preventing and Mitigating COVID-19 at Work
Even as the pandemic persists in 2022, KV Electronics is asking employees to return to the office and factory in according to a business continuity plan that supports customer's demand on parts produced and delivered. 
However, whenever you ask people what their number one concern is about coming back to the office, it's a work–life balance and workplace safety. As such a company understands that employees' top priorities have changed and shifted to their personal safety and how to prevent COVID-19 spreading in the workplace.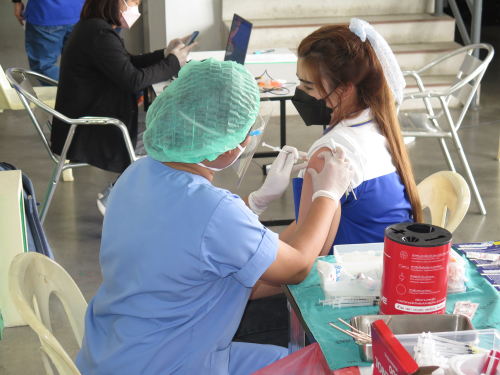 As we realize that COVID-19 spread is emotionally challenging for many people, changing day-to-day life in unprecedented ways including a life of employers and employees. The management of KV Electronics pledges to play a role to protect their employees and helps preventing further spread of the disease by providing the free standard shots of COVID-19 vaccine under WHO/Thailand Health Administration Guidance as well as purchases the mRNA vaccine from Moderna Inc., USA for all employees and their relatives and families to get vaccinated as a booster shot at the factory on January 21, 2022 which the vaccination day was clinically administrated by a professional medical team from the hospital (Kasemrad Chachoengsao Hospital, Thailand).
In addition, Human Resources Department at KV Electronics is providing advice and updated information on COVID-19 situations around the world and in Thailand to the employees including what measures they should take in the workplace and other related factors for precautionary purposes as well as to routinely conduct the random COVID-19 Test for the employees and visitors together with providing the knowledge how employees can protect themselves and their loved ones from the pandemic.